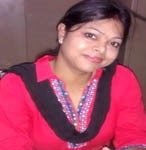 Name
:
Dr. Sonia Kumari
Address
:
Sanjay Gandhi Institute of Dairy Technology,
Jagdeo Path, Patna – 14
E-Mail
:
Phone
:
Brief Introduction
Dr. (Mrs) Sonia Kumari is working as an Assistant Professor cum Jr. Scientist & Head (I/C) Dairy Microbiology at SGIDT, Patna. She has first joined the Rajendra Agriculture University on 24/11/2006 in FBS&H, in the department of Microbiology as an Assistant Professor cum Jr. Scientist and served there for more than four years. After establishment of Bihar Agriculture University she shifted to Sabour, Bhagalpur with the post and served there also for two and half years. At present she is serving SGIDT since last two year. She has worked as a Co-PI on "Soil Biodiversity and Biofertilizer" under NAIP as a  PI on "Litchi wine", Establishment of crop specific Biofertilizer unit for improvement of pulse production in Agro-climatic Zone III at Sabour under RKVY  and at Sabour. She has done her graduation from R.A.U, Pusa and M.Sc and Ph.D(Microbiology) from CCSHAU, Hisar Haryana as an ICAR fellow. She was the recipient of Fellowship by UGC-CSIR during her Ph.D. study. She was also nominated for SPM award being top 20% ranker in the Joint CSIR-UGC examination In addition she had qualified Gate exam with 89.28% percentile score. During her M.Sc. programme she has research on  done on "Ethanol Production from rice straw" and Utilization of Spent Oyster Mushroom Substrate for composting and Enrichment of Biogas Plant Slurry" during Ph.D. She has been awarded with the Best teacher award (Swarpalli Radha Krishnan) in the year 2009. She has been worked I/C Technical cell and was important member in making of DPR of the newly established B.A.U, Sabour. She has published more than ten paper and review article   out of her research, and presented many Abstract, and seminar paper in many Souvenir. She is skilled with many training programme with her field of Specialization etc.